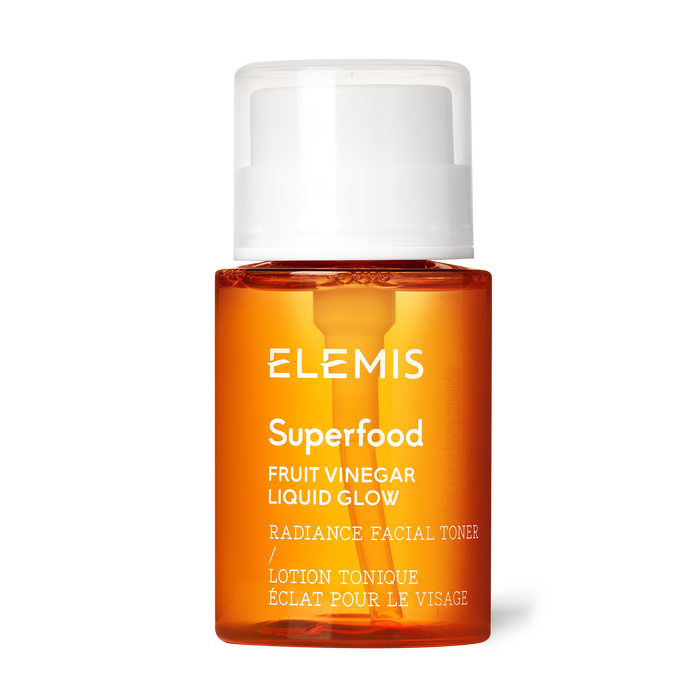 Elemis Superfood Fruit Vinegar Liquid Glow
Regular price $36.00 Sale
A radiance-boosting toner infused with AHA-rich Fruit Vinegars and a Prebiotic to gently exfoliate the skin for a bright, glowing complexion.
Give your skin its recommended daily serving of fruit with this brightening toner. Infused with glow-getting AHAs derived from Apple Vinegar, Apricot and Peach, the gently exfoliating formula reveals a radiant, smoother-looking complexion with improved clarity and texture. This refreshing toner removes every trace of visible pollution and grime and helps minimise the appearance of pores. A natural Prebiotic helps support and maintain the skin's microbiome whilst Prickly Pear Cactus nourishes the skin with vitamin and antioxidant-rich nutrients. Mild enough for twice-daily use, this glow-boosting toner leaves the skin feeling balanced and looking radiant.
145 ml
How to Use:
Use twice daily after cleansing. Using a cotton pad (or reusable alternative) press down on pump to saturate and gently swipe across face and neck avoiding the eye area.
Ingredients:
Fruit Vinegar:  Obtained from the maceration of Apple Vinegar with Apricot and Peach. Abundant in natural AHAs, amino acids and monosaccharides, such as fructose and oligosaccharides and vitamins. AHAs have been shown to work on the corneal layer of the skin helping to promote cellular turnover, sloughing off dead skin cells. They are known to reveal a brighter looking complexion whilst the monosaccharides and amino acids help to retain moisture to the skin, helping it to feel hydrated.
Fermented Pumpkin:  Fermented to increase the availability of its nutrients, this bi-product of Pumpkin harvesting contains AHAs and natural enzymes that enhance the skin's natural cellular renewal process to gently smooth away dull skin, revealing a glowing complexion.
Prebiotic:  Obtained from natural sugars via an original enzymatic synthesis process, this gluco-oligosaccharide helps support and maintain the skin's delicate microbiome, the skin's very first defence barrier. 
Prickly Pear Cactus:  Opuntia ficus-induca is a succulent cactus native to Mexico. Like other cactuses, it has adapted to extreme environmental conditions. The cactus leaves, known as pads, can store large amounts of water. The outer cuticle layer is thickened and coated with a waxy layer to help prevent water loss and to shield it from intense sunlight. A rich source of insoluble and soluble fibers, the cactus also contains Vitamin C, which is known to act as an antioxidant. This extract can be used to help soothe and hydrate.
Full Ingredient List:
Aqua/Water/Eau, Glycerin, Phenoxyethanol, Polysorbate 20, Urea, Panthenol, Chlorphenesin, Disodium EDTA, Fragrance (Parfum), Vinegar, Alpha-Glucan Oligosaccharide, Sodium Dehydroacetate, Propylene Glycol, Rubus Fruticosus (Blackberry) Fruit Extract, Rubus Idaeus (Raspberry) Fruit Extract, Polysorbate 80, Geraniol, Opuntia Ficus-Indica (Prickly Pear) Stem Extract, Linalool, Prunus Armeniaca (Apricot) Fruit Extract, Prunus Persica (Peach) Fruit Extract, Pyrus Malus (Apple) Fruit Extract, Potassium Sorbate, Sodium Benzoate, Litsea Cubeba Fruit Oil, Sodium Hydroxide, Citral, Zingiber Officinale (Ginger) Root Oil, Ethylhexylglycerin, Ribes Nigrum (Blackcurrant) Bud Oil.